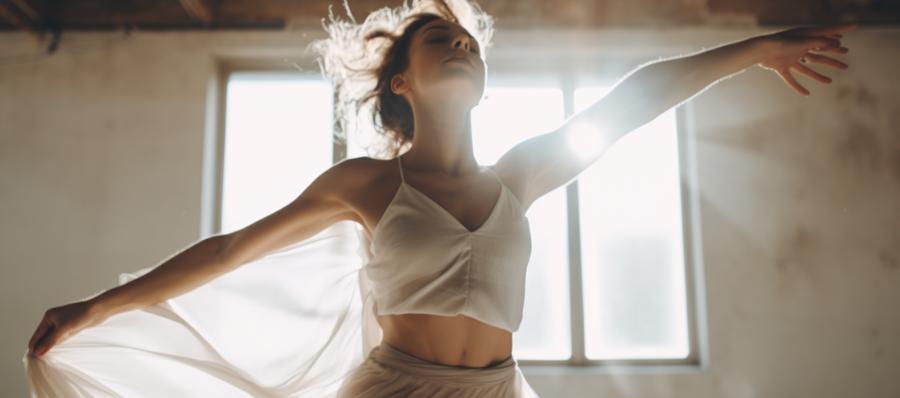 Wiggle Your Way to Wellness
Picture it: a dimly lit room humming with the soothing sounds of Tibetan singing bowls. A group of people swaying and writhing to the rhythm, as if possessed by some groovy spirit from beyond. This is not your average night at the disco; this is meditative dance for emotional release - a wild and therapeutic journey into the depths of the human soul.
Meditative dance is a fusion of movement, mindfulness, and emotional exploration. It's a way to tap into the healing powers of the body and offer sweet release to the pent-up feelings swirling inside. It's like a cosmic boogie that's equal parts therapy and workout. So, if you've been feeling down in the dumps, stressed to the max, or just plain stuck, it's time to get up, get down, and get healing with the ancient art of meditative dance.
Shake, Rattle, and Roll with the Ancient Art of Dance
From the tribal rituals of yore to the thumping beats of today's rave culture, dance has always held a sacred place in human society. It's in our bones, people. We were born to jiggle, jangle, and jive. No wonder ancient cultures such as the Egyptians, the Greeks, and the Native Americans used dance as a form of worship, healing, and emotional release.
Fast forward to the modern era, and dance is still a potent form of therapy. Dance movement therapy, for example, has been proven to help with everything from depression and anxiety to trauma and addiction. Now, meditative dance takes things one cosmic step further, combining the ancient wisdom of movement with the modern science of mindfulness to create a healing experience that's truly out of this world.
Getting in the Groove: Meditative Dance Techniques
Now that you're sufficiently intrigued, let's get down to the nitty-gritty of meditative dance. Here are some popular techniques to help you wiggle your way to well-being:
5Rhythms: Created by Gabrielle Roth in the 1970s, 5Rhythms is a dynamic movement practice that encourages participants to move through five distinct rhythms: flowing, staccato, chaos, lyrical, and stillness. Each rhythm represents a different emotional state and invites dancers to explore their feelings through movement. It's like a rollercoaster ride through the human psyche, with your body as the vessel.
Ecstatic Dance: Ecstatic dance is a free-form style of movement that's all about letting go and connecting with your body's innate wisdom. There are no steps, no rules, and no judgments. Just turn on some tunes, close your eyes, and let the music move you. And don't worry about looking silly; everyone else is too busy busting their own moves to notice.
Biodanza: Developed by Rolando Toro Araneda, Biodanza is a holistic dance system that emphasizes self-awareness, human connection, and the joy of living. It's like a giant, group hug in motion. Biodanza sessions typically consist of guided exercises, partner dances, and free expression, all set to an eclectic mix of music from around the world.
Benefits of Boogie-ing Down
Aside from being a rip-roaring good time, meditative dance offers a slew of health benefits for body, mind, and spirit. Here are just a few:
Emotional Release: Dancing helps to break up energy blockages in the body and release pent-up emotions. Whether you're shaking off stress or twirling through your traumas, meditative dance offers a safe and supportive space for healing.
Mindfulness: By focusing on breath, movement, and sensation, meditative dance encourages participants to become fully present in their bodies, helping to calm the monkey mind and cultivate inner peace. It's like meditation on the move, people.
Physical Health: Let's not forget that dancing is a fantastic workout! Meditative dance can help improve cardiovascular health, boost flexibility, and strengthen muscles. Plus, it's way more fun than hitting the treadmill.
Social Connection: Meditative dance fosters a sense of camaraderie and belonging, as participants share their vulnerability and joy through movement. It's a beautiful bonding experience that reminds us of our shared humanity.
Let the Music Play and the Healing Begin
So, are you ready to join the ranks of the wild and free, the moved and the groovy? Meditative dance is a gateway to emotional release, physical wellness, and spiritual growth - all wrapped up in a funky, soul-stirring package. It's time to let go of inhibitions, embrace the power of movement, and boogie your way to a happier, healthier you. See you on the dance floor, friends.
Article kindly provided by healthyvoices.net