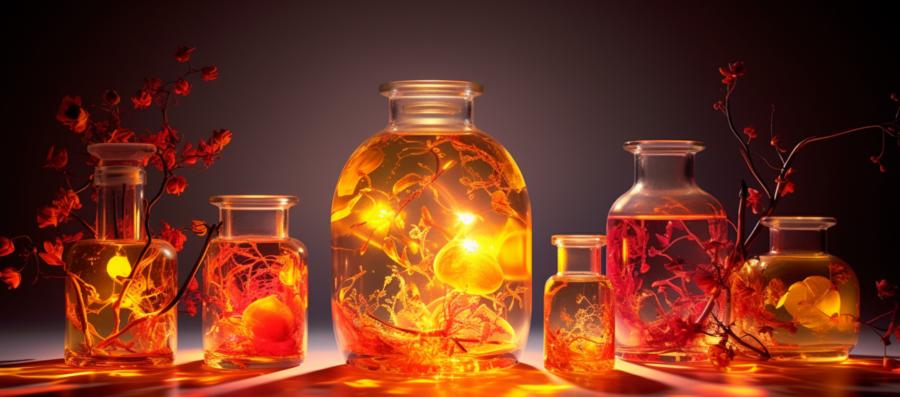 A Sniff of History
Long before the rise of modern medicine, people turned to the power of scent to cure their afflictions. In fact, the ancient Egyptians, Greeks, and Romans all embraced the healing properties of fragrant oils, resins, and botanicals. In those days, it was believed that the sweet smell of a rose could protect against the plague, and the aroma of burning myrrh could ward off evil spirits.
So, it's somewhat surprising that in our modern world, with all its technological marvels and scientific breakthroughs, we still find ourselves drawn to the simple, captivating world of aromatherapy. After all, what could be more delightful than the idea of inhaling our way to health and happiness?
The Scents of Science
But is there more to aromatherapy than its pleasant aromas? In a word, yes. Thankfully, we're not here to discuss the finer points of plague prevention or the intricacies of exorcising demons with the scent of incense (although that would be a hoot). No, we're here to examine the very real health benefits that modern science has uncovered in the world of aromatherapy.
So, without further ado, let's dive into the sweet, fragrant waters of scientific discovery, shall we?
Relax, Take A Deep Breath
One of the most well-known benefits of aromatherapy is its ability to promote relaxation and reduce stress. For example, the scent of lavender has long been used to help people unwind and drift off to sleep. And unlike a glass of whiskey or a handful of pills, the relaxation provided by aromatherapy is both natural and side-effect-free.
But it's not just lavender that can help us relax. A plethora of other scents can be used to soothe our troubled minds, including chamomile, ylang-ylang, and even sandalwood. So, whether you're looking to create a calming oasis in your home or simply want to unwind after a long day at work, the world of aromatherapy has you covered.
Clearing the Air
Another benefit of aromatherapy is the ability of certain scents to purify the air and eliminate bacteria, viruses, and fungi. For example, eucalyptus, tea tree, and lemon oils have all been shown to possess potent antimicrobial properties. This means that not only can your home smell lovely, but it can also be a cleaner, healthier environment for you and your family.
But wait, there's more! Some essential oils, like peppermint and rosemary, can even help improve your respiratory function by reducing inflammation and clearing congestion. So, the next time you're feeling a bit stuffed up, why not reach for a bottle of essential oil instead of that over-the-counter decongestant?
A Pain in the…Aromatherapy?
Believe it or not, aromatherapy can also offer some relief from pain. For example, studies have shown that lavender oil can help alleviate headaches, while ginger and black pepper oils can reduce muscle and joint pain. Additionally, chamomile oil can be used to soothe irritated skin and reduce inflammation.
Of course, we're not suggesting that you toss out your painkillers and rely solely on the healing powers of fragrance. But incorporating essential oils into your pain management routine could be a worthwhile addition that provides some much-needed relief.
Boost Your Mood and Sharpen Your Mind
Last but not least, aromatherapy can have a profound impact on our emotions and cognitive abilities. For example, citrus scents like orange and grapefruit can help boost our mood and reduce feelings of anxiety and depression. On the other hand, rosemary, peppermint, and basil can help improve focus and mental clarity.
So, whether you're looking to banish those pesky Monday blues or simply need a pick-me-up to get through that afternoon slump, the power of aromatherapy could be just what the doctor (or, more likely, the ancient Egyptian priest) ordered.
Final Thoughts
As we've seen, the world of aromatherapy offers much more than just pleasant fragrances. From promoting relaxation to reducing pain and boosting our mood, the health benefits of essential oils are both numerous and diverse.
Of course, it's important to remember that aromatherapy isn't a one-size-fits-all solution or a substitute for conventional medical treatments. But when used in conjunction with a healthy lifestyle and the advice of your healthcare provider, the ancient art of aromatherapy can provide a welcome dose of natural healing and wellbeing.
So, go ahead, take a deep breath, and let the sweet scents of nature work their magic. Your mind, body, and spirit will thank you for it.
Article kindly provided by healthyvoices.net