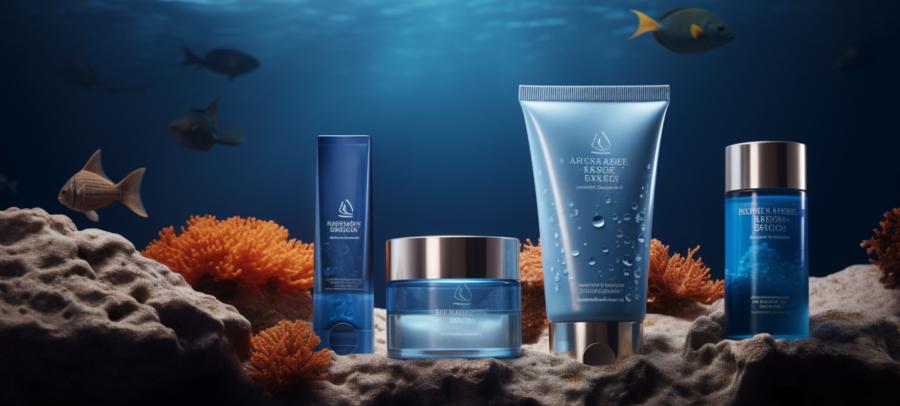 Navigating the High Seas of Skincare
Imagine you're a stylish seafarer, braving the high seas in a quest for radiant skin. As you navigate through waves of beauty products, you may have heard whispers of marine-based ingredients and their promises of rejuvenation. Fear not, for I shall be your helmsman through these uncharted waters, guiding you to the bountiful beauty treasures that lie beneath the surface. So, hoist the Jolly Roger and join me on this voyage of discovery, filled with wonderment, laughter, and an endless bounty of skincare salvation.
Seaweed: The Kelping-Hand of Skincare
By Neptune's beard, let's dive straight into the briny deep and explore the green gold of the ocean: seaweed. This slippery, slimy frond of marine flora is like the Swiss Army knife of skincare - it's got a tool for every job.
Moisturizing: Seaweed is packed with humectants, which are like tiny aquatic sponges that draw in and lock moisture. These microscopic water warriors will fill your skin with hydration, plumping it up like a well-fed sea lion basking in the sun.
Nourishing: Rich in vitamins and minerals such as iodine and magnesium, seaweed is essentially a superfood for your skin. It's like laying out a buffet of nutrients for your epidermis, offering a veritable feast for your face.
Detoxifying: Seaweed has an uncanny ability to absorb toxins and impurities, like a sponge mopping up the aftermath of a particularly raucous pirate party. Apply it to your skin, and this miraculous plant will draw out pollutants, leaving your face fresh and squeaky clean.
Embrace your inner Poseidon and harness the power of seaweed for your skincare routine. You'll soon be the envy of sailors and mermaids alike, as your skin glows with the radiance of a thousand sunken treasures.
Marine Collagen: A Fishy Fountain of Youth
Our undersea adventure continues with marine collagen, derived from the scales and skin of fish. Now, before you cringe at the thought of smearing fish remnants on your face, let me regale you with the wondrous properties of this piscine panacea.
Collagen is like the scaffolding of your skin, keeping it firm, plump, and wrinkle-free. Alas, as we age, our collagen production wanes, leaving us with sagging skin and the dreaded crow's feet. This is where marine collagen swoops in like a graceful albatross, delivering a payload of youth-restoring splendor.
Compared to its landlubber cousins (bovine and porcine collagen), marine collagen is more readily absorbed by the skin, thanks to its smaller molecular size. This means it can more effectively replenish your dwindling collagen reserves, restoring firmness and elasticity to your dermal decks.
Adopt marine collagen as your first mate in the battle against aging, and you'll be navigating the seas of time with a visage as smooth and wrinkle-free as a freshly ironed pirate flag.
Sea Buckthorn: The Buccaneer's Balm
As we sail onward, we encounter the marvelous sea buckthorn - a berry that packs a punch worthy of Blackbeard himself. This vibrant orange fruit has been revered for centuries for its healing and rejuvenating properties, earning it the nickname "Liquid Gold."
Sea buckthorn oil is teeming with vitamins, antioxidants, and essential fatty acids, making it a veritable treasure trove of skin-loving goodness. Here are just a few of its bountiful benefits:
Healing: Sea buckthorn oil is a panacea for troubled skin, soothing irritation, and calming inflammation like a gentle sea breeze.
Anti-aging: With a potent cocktail of antioxidants, sea buckthorn oil battles the ravages of time, helping to keep your skin supple and smooth as a well-weathered sea shanty.
Hydrating: Just like the ocean, sea buckthorn oil is a wellspring of moisture, quenching your skin's thirst and leaving it as dewy as a mermaid's tail.
Embrace the power of sea buckthorn and let it nourish your skin, like a hardy sailor feasting on a hearty meal of hardtack and grog.
Set Sail on a Skincare Voyage
And there you have it, dear adventurers - a tantalizing taste of the beauty bounty that awaits you in the mysterious depths of the ocean. As you embark on your nautical skincare journey, remember to always steer towards the marine-based ingredients, for they shall be your guiding stars to radiant, rejuvenated skin.
Farewell, my fellow sea-faring beauty enthusiasts, and may your skincare voyage be filled with laughter, wonder, and a treasure chest of marine-based marvels.
Article kindly provided by healthyvoices.net